Thanks for visiting my blog! I'm Greg, and this is my world of bass. A little background is in order. I've been playing the electric bass guitar for 17 years now, semi-professionally for about the last 10. I've played live and recorded albums with various artists from Athens, GA including Mama Shug, Flat Broke & Busted, Patrick Connell Band (featuring world renowned violinist
Dr. Andrej Kurti
),
Cyndi Harvell
, drummer & beatboxer
Bronkar Lee
, and others. I'm currently in the Atlanta band
Dead Stick Landing
.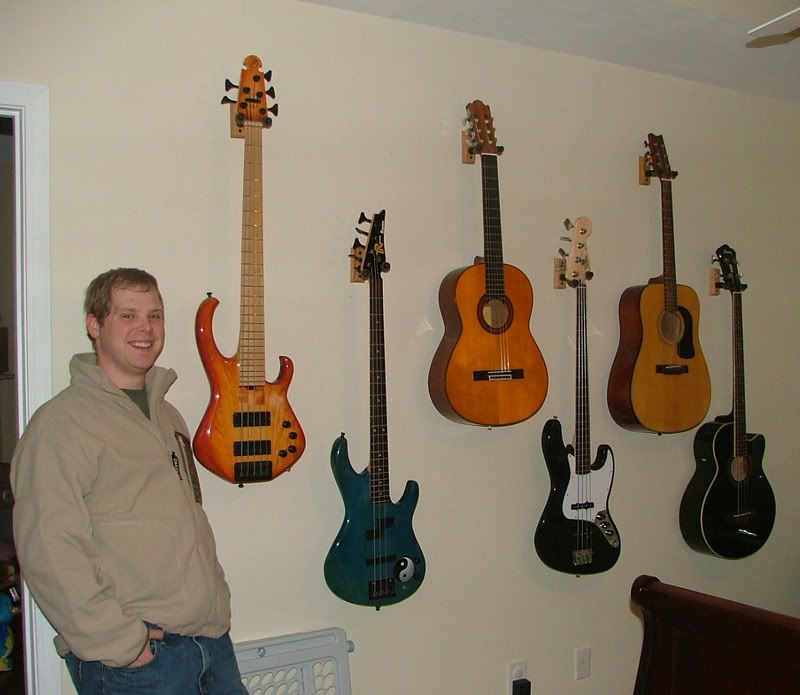 (l to r): me, Skjold ProV5, Ibanez TR modified with EMGs and hipshot extender (my first bass), Yamaha classical, Fender Jazz fretless, Washburn Dreadnought, Ibanez acoustic.
The genesis for this blog comes from my latest addition: a standup bass. I wanted a place to document my progress, from the ground up. I'll also include snippets of me playing electric bass, videos of the masters of the instrument, introspections, insights, and any other random musical thoughts floating around my head.
My influences are mainly rock, metal, jazz, funk (slap that thang!), and electronic. I also like classical, (good) hip hop, old country, and world music. Anything that has good playing. Music of substance, unlike overly polished prepackaged auto-tune corporate radio garbage. I like music that's progressive and/or improvisational or anything that fuses genres together. My heroes are Victor Wooten, Jaco Pastorius, Les Claypool, and other faves are Stanley Clarke, Tony Levin, Oteil Burbridge (Allman Bros. Band), Ryan Stasik (Umphrey's McGee), Cactus (Phish), P-Nut (311), Flea (RHCP).
I love the bass because it's rhythm and melody. If a band doesn't have a tight rhythm section, it's not worth listening to. Gotta hook up with the kick drum for that deep pocket! There are times to be flashy, but bass is there to support the band and make everyone else sound good. Know your role. It's imperative to serve the song. The music comes before ego. I think that's why most bassists are good listeners and humble, down to earth people (Gene Simmons notwithstanding).